There are many sign-posted trails close to Bristol that deserve more attention. The Three Peaks Circular is one of them. It starts in Dundry and can be done with public transport or bike to the start.
The three peaks are Maes Knoll, Knowle Hill, and Blackberry Hill. It goes through the lovely North Somerset countryside and the trail passes through both Pensford and Chew Magna so you're covered with great food options.
Highlights: beautiful vistas from the three peaks south of Bristol, quaint villages, pub stops, the amazing Pensford viaduct, two lakes, a few woodland reserves. You won't believe you started at the edge of Bristol's suburbs as the walk feels quite remote.
Stats: Full day walk. 27km/17 miles, rolling terrain, the peaks are more like hills, it was muddy in March, wore my gore-tex trail shoes and was fine (didn't miss my boots)
Start/Finish: East Dundry Road, Whitchurch (about 15 minutes drive from the centre of Bristol); you can take the bus to Whitchurch and walk to the trail head. If driving, park at the bottom where the road turns into a lane opposite sign to Hill Farm.
Alternatives: It is also a flexible walk that can fit how much time you have:
You can do it over a full day or cut it short by linking up with the Community Forest Path at Norton Malreward. I've done this when I only have a few hours to spare and want to get outside for it. It also crosses the Two Rivers Way, which is another shortcut option.
I also did a half-day walk by starting at E Dundry Road and going via Pensford and finishing at Clutton. You can catch the bus back to Whitchurch from there (and about a 15 min walk from Whitchurch back to your car on East Dundry Road). The bus comes every 30 minutes from the main road through Clutton, which the trail crosses.
Signposting: pretty good, but a few patchy spots (eg, through Pensford). You'll need a map. Or, follow my GPS tracks here.
The Long Distance Walkers' Association has a zoomable map, which I used en-route on my phone, shown below. The Three Peaks Circular is shown in red, and the light green routes are the Community Forest Path and the Two Rivers Way — both options for shortcuts.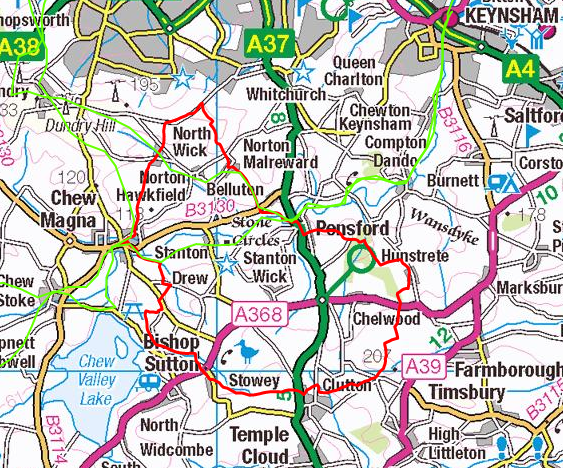 Food options: pack a picnic or stop in Pensford (two pubs or buy sandwiches from the post office) for lunch; afternoon tea in Chew Magna where there's a few pubs and shops to choose from (I like the Bear and Swan and they have a beautiful beer garden). If you bring a picnic, stop at one of the lakes (both are before Clutton).